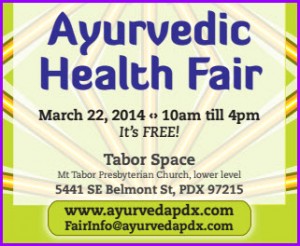 Portland, Oregon hosts its second annual Ayurvedic Health Fair on Saturday, March 22nd from 10 am to 4pm at Tabor Space on 54th Street and SE Belmont. For the past 20 years, renowned herbalist K.P. Khalsa, author of The Way of Ayurvedic Herbs, has said that maybe this year will be the year that Ayurveda finally takes off in Oregon. All signs point to 2014 being a year of change in the Pacific Northwest.
Only last year, Seattle's Bastyr University launched its Master of Science in Ayurvedic Sciences and became the first such accredited program in the nation. And the year before, NCNM hosted an Ayurveda Seminar Weekend with Dr. Shanbhag, Dr. Sodhi, Dr. Dhru and K.P. Khalsa. Ayurvedic Practitioners in Oregon plan to launch further programs in 2014. Come to the Ayurvedic Health Fair and meet practitioners from the region. Find out more about this healing system and how it can benefit you.  It is cost effective, pro-nature, holistic, safe and a complete diet and lifestyle system. You can boost your immunity, improve your digestion, find better sleep and less stress. Find out more about what Dosha you are and what simple tips could bring you in to balance. Guest speakers will present on how:
Food can be your medicine
Ayurvedic approaches to women's health
Introductory tips from the secrets of Ayurveda
Diabetes can be addressed with Ayurvedic protocols
Yoga and Ayurveda's combined benefits
Spices to balance your Dosha
The Spring Equinox is one of the best times of year for cleansing. Take advantage of the moment and bring the bliss within yourself to a fuller opening. The event is FREE. For more on tabling or directions, visit the Ayurvedic Health Fair.