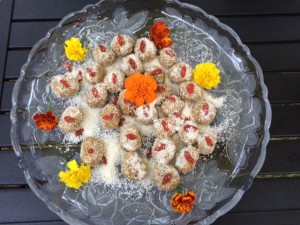 Vata: Decreases
Pitta: Decreases
Kapha: Increases
Season: Special Occasion
Besan Ladoos (Laddus) are not just for Diwali. Enjoy them for special occasions or with tea. Besan is the same as chick pea flour or garbanzo bean flour. These sweet treats can also be cooling for summer.
Ingredients:
2 cup chick pea flour
3/4 cup coconut oil (or ghee)
1/2 cup powdered sugar (or less to taste)
8 cardamom pods (husks discarded and seeds ground)
3 tablespoons ground almonds or almond butter or pumpkin butter or sunflower seed butter
2-3 Tablespoons rose water
5-10 threads of saffron soaked in 2 T water for 10 minutes
2-3 teaspoons maca
1/2 cup shredded or grated coconut
20 goji berries or toasted almonds or cashews for garnish
Directions:
1. Put saffron in water to soak
2. Toast besan flour over low heat for 10 minutes until it smells nutty
3. Add coconut oil until flour is saturated and toast a few minutes more until roasted smelling
4. Add sugar, cardamon, rose, saffron, maca
5. (Add a bit of sesame oil if mixture is too dry)
6. Roll balls in a tad of oil, then coconut, then top with a nut or berry
7. Chill 2-3 hours before serving in an airtight container
Serves: 20
Preparation time: 20 minutes
For Individual Doshas:
Vata: Use ghee and a pinch of nutmeg
Pitta: Try a semolina flour
Kapha: Add a dash of cayenne
© 2015 by Ann Wagoner
Note for Easy Ladoos
Ingredients:
1 cup black sesame seeds
1 cup chopped walnuts (or half walnuts, half almonds)
½ – ¾ cup honey (Meadow Foam preferred)
Directions:
1. Dry roast sesame seeds in a wide skillet over medium heat, stirring occasionally until fragrant. Remove from heat to cool.
2. In a food processor whir together sesame seeds, walnuts and honey.
3. Roll balls in coconut flakes.
4. Top with a goji berry
Tip — Keep hands wet while rolling laddoos