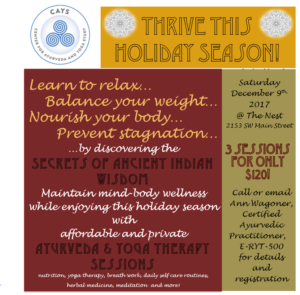 See the December Externship flier for more details!
Ayurveda & Yoga Therapy Clinic
Return to Balance ~ Maintain Wellness
Affordable and private Ayurveda & Yoga Therapy Sessions with RYT-300 hour interns: Rachel Owen, LMT, Certified Ayurveda and Yoga Teacher and Elyssia Schaeffer, Nutritionist, Certified Ayurveda and Yoga Teacher. Supervised by: Ann Wagoner, Certified Ayurvedic Practitioner, E-RYT-500* One 2-hour Initial Consult + Two 60 Minute Follow-ups.
Includes:
Detailed history intake
Ayurvedic evaluation of pulse, tongue, eyes, skin and nails
Assessment of Ayurvedic mind-body type (Prakruti) and imbalances (Vikruti)
Personalized Ayurvedic plan for diet, health routines, Yoga, breath work & meditation
Saturday December 9th, 2017. Only three openings left! One at 10am, 11:30 am and one at 2pm.  Location: The Nest, 2153 SW Main Street Suite 202, Portland
Call or email Ann to schedule. 503.890.2105 ann@lighthouseayurveda.com
Ayurveda is the 5,000 year old wisdom of healthy living. It is a way of natural healing and emphasizes maintaining the harmony of body-mind-spirit through diet, life style and natural herbs. Student interns and supervisors are not licensed physicians, nor are Ayurvedic services licensed by the state. In Ayurveda the emphasis is not on disease diagnosis but on maintaining the balance of the individual's constitutional nature, or Dosha, so Ayurvedic treatments are never one size fits all, but custom tailored for each individual.
*Your visit is closely supervised by Center for Ayurveda and Yoga Study faculty, Ann Wagoner. Ann is an Ayurvedic Practitioner, CAP, from Mount Madonna Institute and an E-RYT-500 Yoga Alliance certified yoga instructor.
**This special is only valid through December 9th, 2017. Sessions can be paid for separately.